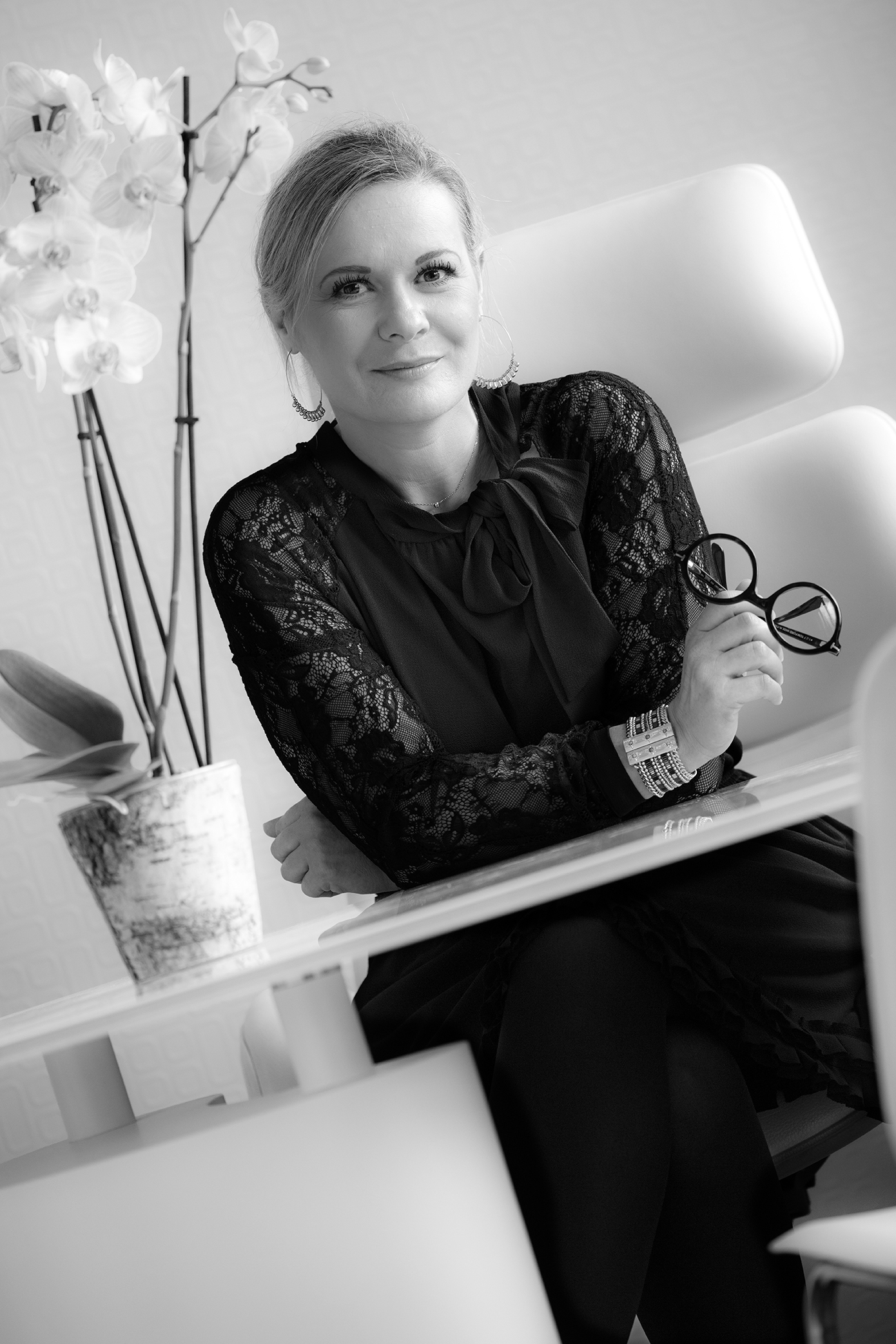 « Achieving a natural finish is my prime objective. There is for me nothing more uninspiring than faces that all look the same, and do not look like themselves any longer, nor have any more sign of what makes their own and unique personalities. »
My goal is to help women to become the best version of themselves.
I like the idea of the 'French Touch' by winch I live by ! it relates to a certain philosophy for any aesthetic medicine treatment, that aspires to this exact preservation of anyone's identity. This means improving but not transforming. In any way. A natural result is key."
Natural, natural, natural…
With this in mind I aim for treatments of the highest possible quality, with products carefully selected, and always with the objective to preserve what makes each one of my patients unique, meaning her personality and charm."
What I aim to observe following a treatment, is a patient who is in more in sync with her own self, who gets a renewed balance between who she is and how she looks, renewed well-being and confidence. This is what I aim for and makes me proud of what I do for a living.
This is why I relentlessly strive to better myself, train on the latest developments in the industry, stay abreast of the latest products or technical releases that keep being developed in the field of aesthetic medicine.
My job is a passion that keeps me going, that pushes me to always try to meet and improve how I answer my patients' needs and expectations.
What I am the most passionate about my work, what drives me, is the ability to add something to people's lives, to enhance their well-being, without transforming them.
The "challenge" is to bring some efficient results, whilst maintaining a natural finish. Fascinating!
I like the term "to sublimate" which sums up very well how I perceive my profession.
SUBLIMATE: not in the psychoanalytical sense of course, but as if to mean to magnify, to idealize. My mission is indeed to take into account each specific beauty and give it back some radiance, the radiance it deserves. It equates to revealing each beauty whilst respecting its nature.
I believe in aesthetic medicine if it is practiced with these precepts in mind, but certainly not if it tries to achieve some universal or trendy beauty stereotypes. This on the contrary is what we should avoid doing in my profession.
I am convinced that the future of aesthetic medicine, practiced as such, will be to become an integral part of the beauty rituals of any woman who looks after herself.
Like any other beauty ritual, the aesthetic medicine brings undeniable benefits in terms of well-being. It brings adequacy with oneself, an adequacy between one's inner self and one's reflection, a harmony between one's true personality and the image one emits via its outer image, which results in an improved self-esteem.
Are you still hesitating ?
Are you still hesitating? Asking questions is completely normal before launching! I have listed here the most frequent questions that my patients ask me. The first consultation is there to answer all your questions.